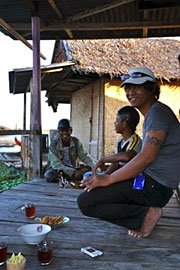 Lapender Palembangan is a professional guide in Sulawesi and the Toraja country. sulawesiHe organizes tailor-made tours to make you discover the most amazing places of the Island.

Located between Borneo (Kalimantan) and Moluques Islands, Sulawesi is most known by its old name Celebes Islands. It is the fourth largest Indonesian Island.

Sulawesi offers amazing sceneries in still preserved areas : beaches quasi deserted with crystalline waters in Bira, in Togian Islands or in Manado coral reefs and also mountains covered with rice fields, lakes, villages with floating houses on stilts.

Sulawesi is the Bugis sailors country with their wooden "penisi" shooners that we can admire in the old harbour of the capital Ujung Pandang (Makassar in the old time) and which are still built with ancestral methods, in Tana Beru.

Sulawesi is also well-knowned for the Toraja culture which is still alive with its funeral ceremonies and its decorated houses, the "Tongkonan" with their roof in the shape of ship bow.